Security services in Ukraine said on Monday that they had foiled plans by a suspected far-right French militant to carry out a series of 15 attacks during the Euro 2016 football tournament, set to start on Friday.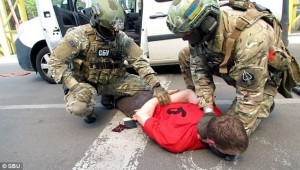 "The targets of explosions were to include: a Muslim Mosque, a Jewish synagogue, an institution collecting taxes from French citizens, autobahn surveillance points and many other spots," Vassyl Hrytsak, the head of the Security Services of Ukraine (SBU) went on to specify at a press conference in Kiev on Monday.
The man, who has been identified by the French media as Gregoire Moutaux, 25, was caught carrying €250,000 ($284,000) worth of arms in his car in Ukraine, including five Kalashnikovs, 5,000 rounds of ammunition, two rocket launchers, 125kg of TNT, 100 detonators and 20 balaclavas. The Ukrainian security services themselves sold him the weapons in an entrapment scheme after monitoring since December.
 Mr. Moutaux is thought to harbour far-right wing views, after the French police found a t-shirt with the emblem of an ultra-nationalist group during a raid at his house in the Northeast of France.
 "The Frenchman talked negatively about his government's actions, mass immigration, the spread of Islam and globalisation, and also talked about plans to carry out several terrorist attacks," Mr. Hrytsak said.
 French services and counterterrorist experts are however keen to distance themselves from the claims of their Ukrainian counterparts, stressing that a national judicial investigation had yet to follow its course.
 Refusing to waive the possibility of a case in arms trafficking, France has entrusted its judicial unit specialised in organised crime to prosecute Mr. Moutaux, rather than its counter-terrorism department. Investigators are trying to determine the intended destination of the arms, which could serve far-right networks, but also drugs trafficking groups or large-scale banditry.
 Jean-Yves Camus, a researcher in extreme right-wing movements, told national French TV channel France 3 that the episode was "undisputably one of the most extraordinary cases that he had seen in a very long time". "This is someone who is unknown of the police authorities, who has a banal profile and is most of all projecting to carry out terrorist attacks of staggering proportion," he said. "Fifteen terrorist attacks during the Euro 2016 means two terrorist attacks every two days against motley targets – a synagogue, a mosque, a motorway toll and a tax centre."
 The arrest of Mr. Moutaux is a reminder of the security threat faced by France during Euro 2016 (June 10 – July 10), as over 100,000 policemen and soldiers prepare to monitor the country.
Between floods and foiled terror plots, France is beset by challenges in the wake of Euro 2016.
The World Weekly