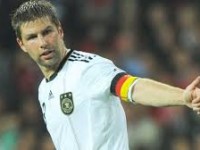 Thomas Hitzlsperger, the former Aston Villa, Everton, West Ham and Germany   midfielder, has become the first Premier League player and highest-profile   footballer to announce he is gay.
In an effort to "further the debate about homosexuality among sports   professionals", Hitzlsperger talked openly about his sexuality to German   newspaper Die Zeit but admitted that he was discouraged from coming   out while he was still playing.
Hitzlsperger retired from football last September after being released by   Everton and said that he had only become fully aware of his sexuality during   the latter stages of his career.
"It's been a long and difficult process," he said. "Only in the last few years   have I realised that I preferred living together with a man. I was never   ashamed of being who I am but it was not always easy to sit on a table with   20 young men and listen to jokes about gays.
You let them get on with it as long as the jokes are somewhat funny and   not too insulting. Being gay is a topic that is ignored in football and not   a serious topic in the changing room."
Hitzlsperger's announcement was met with huge support from across world   football and even politics. The deputy Premier Minister, Nick Clegg, praised   Hitzlsperger's "courage" and said that his decision would "help break down   barriers in sport for the next generation".
German Chancellor Angela Merkel added: "We live in a country where no one   should be afraid to confess his sexuality for fear of intolerance."
Hitzlsperger said he wanted to help other sportsmen or women and play his role   in the evolving debate on homosexuality in sport.
"Modern football has no place for people from the Dark Ages or people with   old-fashioned prejudices and I hope this will give courage to young people   about to get into professional sport," he said.
"It's just a nonsense that gay people are unmanly. You keep coming across this   prejudice, but homosexuality and masculinity are not contradictions.
"Fighting spirit, passion and winning mentality are intrinsically linked, that   doesn't fit the cliché: 'gays are soft'. I've never been ashamed of being   gay but I have asked myself the typical questions that gay people ask   themselves: What would my friends say? How will my family react? There is a   difference between silence and lying."
Hitzlsperger was in a relationship with a woman for much of his football   career. "When talking about cheating and women in the dressing room, I   answered 'my girlfriend is too important to me, I'm not doing it'," he said.
"That was not a lie because I genuinely did have a loving relationship. I had   the luck to find a really nice girlfriend early on. Our relationship lasted   longer than most relationships in our circle, we were planning a wedding,   but after eight years our relationship ended without her knowing anything of   my feelings for men. That was six years ago now."
Hitzlsperger represented Germany 52 times, played in a World Cup and a   European Championship and won the Bundesliga with Stuttgart. Many of his   former team-mates offered messages of support on Wednesday, including   Arsenal's Lukas Podolski. "Brave and right decision. Respect, Thomas   Hitzlsperger. His outing is an important sign in our time."
Hitzlsperger's announcement came on the day that Alex, the former Chelsea   defender, prompted a backlash for an apparently anti-gay remark on French   TV. "It's Adam and Eve, not Adam and Yves," he said.
Robbie Rogers, the former Leeds United winger, also came out last year while   Tom Daley, the Olympic diver, has recently admitted that he has a boyfriend.
Chris Basiurski, the chair of the Gay Football Supporters' Network, said that   Hitzlsperger's interview represented another important step but stressed   that there is still much to be done in this country to make football more   inclusive for gay people.
"It shows that we are moving one step closer to creating that atmosphere in   football where players at all levels would be able to come out should they   want to, safely and free from discrimination," he told Telegraph   Sport.
"There seems to be a lot of support which a player may not have had a few   years ago. Obviously we are still waiting for a current player to come out   and we are still yet to gauge what the reaction to a gay player would be   within the changing room and terraces. That, I suppose, will be the real   test case."
The Telegraph