On Saturday Henriette Reker, in charge of running refugee services in Cologne, was stabbed in the neck by an assailant with a far-right background. On Sunday she became the German city's first female mayor.
 The attack on the final day of campaigning turned the 58-year-old trained lawyer into Germany's most prominent victim of a growing backlash against a record influx of refugees.
From now on Reker's name will come up whenever discussion turns towards the "growing aggression and the brutalisation of the political discourse," said national news agency DPA.
But while she lay recovering in hospital, she trounced her opponents at the ballot box, winning 52.6 percent of the municipal vote.
Married to an Australian professional golfer, Reker has for five years run the Department of Social Affairs, Integration and Environment in Cologne, the western city best known for its cathedral, the largest Gothic church in northern Europe.
Tasked with accommodating asylum-seekers from Syria and other war zones, she has housed them in sports halls, former commercial spaces and other sites, and called for their social integration as Germany faces up to a million new arrivals this year.
"Cologne is a growing city with a housing problem. The highest priority right now is to make sure nobody sleeps under bridges," she told news weekly Die Zeit in March.
She recently sparred with Cardinal Rainer Maria Woelki, rejecting his criticism of the city's handling of the migrant crisis, and telling him the support offered by the Church so far was "not the level of help that we would like to see".
– 'Sympathy boost' –
Described as a diligent worker and able administrator, she had largely shunned the limelight for most of her public service career until running in Sunday's election for the mayorship of Cologne, Germany's fourth largest city.
While seriously injured in the attack, Reker was improving on Sunday and expected to make a full recovery, according to medical staff.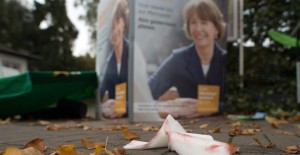 After the stabbing Conservative newspaper Die Welt reported that "the election has suddenly taken on another dimension" and predicted that "sympathy factor" would boost Reker's election chances.
She ran as an independent candidate but has the backing of the ecologist Greens, Chancellor Angela Merkel's conservative CDU and the liberal and pro-business FPD.
She defeated several opponents, with the main challenge coming from a centre-left Social Democrat who took just 32 percent of the votes cast.
Calling Cologne "a thriving metropolis" in the heart of Europe, Reker has pledged "fundamental changes" in how the city is run and a new and "more transparent governing style".
She also campaigned on a ticket of more affordable housing, eco-mobility and public spaces for culture and the arts.
Following Saturday's attack, which sparked a national outcry and a large solidarity rally, her campaign team issued a statement saying she was expected to "fully recover" and expressing thanks for the hundreds of messages of support they had received from as far afield as the United States and India.
"Victory!" her team tweeted after Sunday's results, calling Reker's win "a new start for Cologne".
Yahoo News