Taxi drivers put on a late-night show of strength and shouted at the women.
Joined by British expats who say they have been victims of the prostitutes.
Around 20 Nigerian prostitutes complained they were insulted and assaulted.
Brits expected to attend court in coming weeks for to face investigating judge.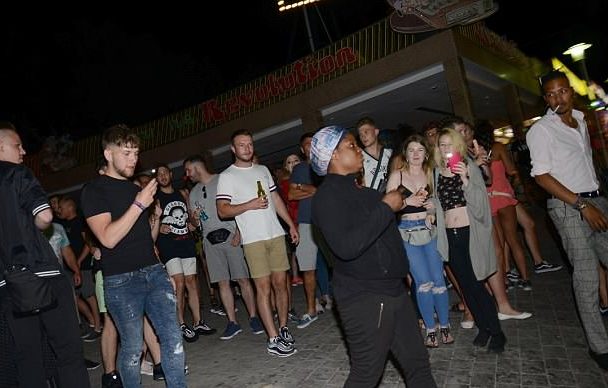 Five Brits have been accused by Spanish police of hate crimes over vigilante street protests in Magauf against African prostitutes blamed for tourist muggings. The expats were fingerprinted and told they face a court summons after being ordered to attend a local police station. The summons occurred after around 20 Nigerian prostitutes complained to police they had been insulted and assaulted by protestors who filmed them without their consent.
The unnamed Brits, who were supported by expat friends when they went to the Civil Guard station near Magaluf, say they are the ones being treated as criminals rather than the women, They are believed to have been members of a Facebook group which has recently been shut down. The group are expected to be ordered to court over the next few weeks so they can be questioned by an investigating judge who will decide whether to formally charge them with hate crimes and disturbing the peace.
The shock development in the ongoing battle to rid Magaluf of the prostitutes – which has led to ugly street spats and calls by the local mayor for the Spanish government to draft more police into the party resort – has caused consternation among British workers and businessmen.
One confirmed: 'The outcome with the police wasn't good. Our friends are being charged with hate crimes and are awaiting court. We have to rethink this again and change our tactics.' A local travel worker added: 'Makes me laugh how these women can denounce and get listened to after all they have done and got away with. 'I suppose they think they have won now and they're laughing at everyone.'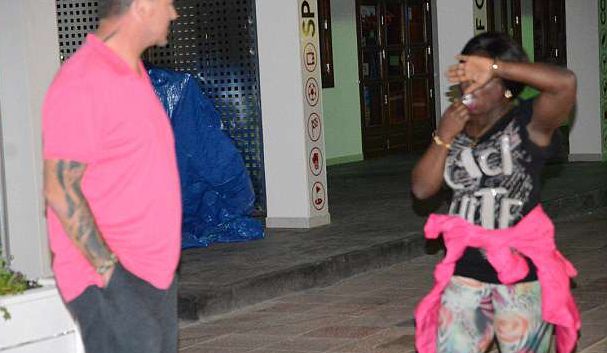 One of those who now faces a court summons is a Magaluf bar manager from Darlington, Co Durham. He confirmed he was among the Brits 'charged' with hate crimes and disturbing the peace, although the police accusation is not a formal judicial charge. Formal charges if they occur are likely to be months away because of the slowness of the Spanish judicial system. It is claimed that the women have come to Spain via organised crime in Nigeria, and they are blamed by local businesses for a drop in tourist trade. The most recent figures for Mallorca as a whole showed a year-on-year fall of almost six per cent in the number of visitors to the island.
It was not immediately clear if street protests against the prostitutes would continue. The British group coordinating actions against the women had made public its intention to make a daily stand against the 'prostitutes' who have robbed, stabbed, bullied and attacked not only holidaymakers but the residents and seasonal workers of Magaluf.' It said on its social media literature, insisting on the need for peaceful protest: 'We will hold public demonstrations every night and prevent them from making a living preying on the people of Magaluf and together we will take back our streets, and make them understand that they are no longer welcome here and they are not wanted! 'If the police will not do anything about it then we will! There are less than 100 of them but we can number in the thousands! We will put an end to this together.' Spaniards have also taken part in street protests. One earlier this week ended up turning ugly as African women were chased off the streets while being videoed on mobile phones to shouts of 'The tourists are not coming because of you.'
Via Daily Mail